The competition in the Amazon marketplace is fierce. Unless you understand how to perform SEO for Amazon's A10 search engine, you cannot expect customers to find your product pages.
A common mistake marketers make is trying to drive as many visitors to their product pages as possible.
The stronger strategy is to attract relevant visitors that are most likely to be interested in buying your products.
In a nutshell, your landing page has to be relevant to the search terms used by customers. Then you have to convince them to convert.
How does Amazon's search engine work?
Amazon uses an algorithm programmed by a subsidiary company, A9. Just to confuse matters, the company is now using an updated algorithm, A10.
Amazon's search engine works in a similar vein to Google's – except it doesn't use as many complex metrics because end-users are only ever searching for products.
The good news is, performing Amazon SEO is easier than getting your head around SEO for Google.
The not so good news is that Amazon still roll-out impromptu and unpredictable updates that can upend the visibility of your product pages.
In our experience, if you get your SEO right from the get-go, you have a solid grounding and can easily adapt to algorithm changes.
Your initial objective when optimising product pages for Amazon is:
• Visibility
• Relevance
• Conversions
That's pretty much what we're going to explain below.
Enhancing Visibility on Amazon
The most powerful method of making an appearance on Amazon's online store is through the company's cost-per-click ads, sponsored products or as a sponsored brand.
You also have the option to create "Stores" which are free to use and enable you to customise multiple shop windows to showcase the various brands you sell products for.
Whether you take the sponsored route or aim for organic traffic, you need to optimise your product pages. The key information to note is:
• Text match relevancy: Do the search terms match the keywords you have used to advertise your product?
• Availability of Stock: If you run out of stock, Amazon removes the product page from the search results.
• Price: Amazon is all about delivering price-competitive products. If you price your products higher than your competitors, you may not be given the same visibility
How to Remain Relevant on Amazon
Visibility is influenced by the use of strategic keywords. Your product pages need to be optimised so A10 can match your products with relevant search terms.
Relevant keywords will be needed for:
• The product title
• Bullet points
• Product description
• Backend keywords
Before you spend time optimising your product page, conduct keyword analysis on your competition. You do this by performing a search for the product you will be selling and pulling out the top three ranked rivals that have the most reviews.
Make a note of how they use keywords in the product title, bullet points and product description, together with how they are using the features and benefits of the product.
Crafting a Product Title
How you place keywords in your product title carries a lot of weight with Amazon's A10 algorithm.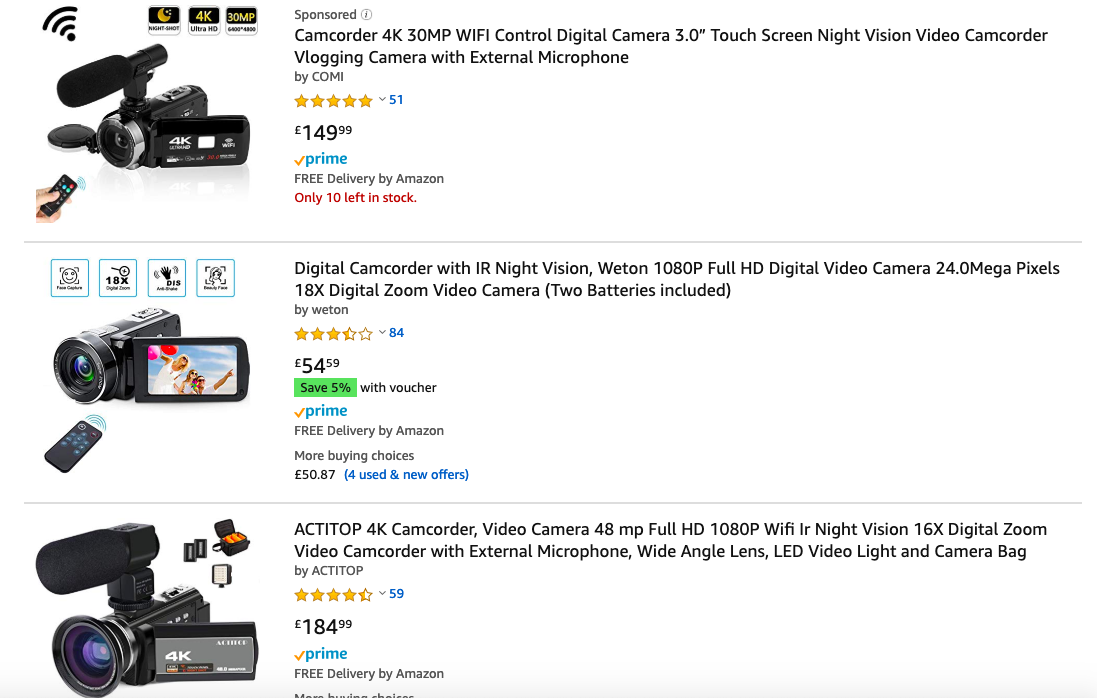 When you perform your competitor analysis you will probably find that keywords appear at the beginning or near the beginning of the title.
This stands to reason because most shoppers will have researched a product before visiting Amazon. They know exactly what they want to buy.
Other determining factors, both for search relevancy and a customer point of view, is including key selling points in the title. For example:
Significant features
Benefits
Make and model of the product (if relevant)
Colour
Size
Quantity
Material
Warranty
Product Descriptions and Bullet Points
According to Amazon, publishing premium content on your product pages can impact sales velocity by over five per cent.
Premium content is classed as a high-quality image and a professionally written product description.
You can leverage your content by taking advantage of Amazon's Enhanced Brand Content which enable you to add images and design aspects and modify the description fields so you can tell your brand story.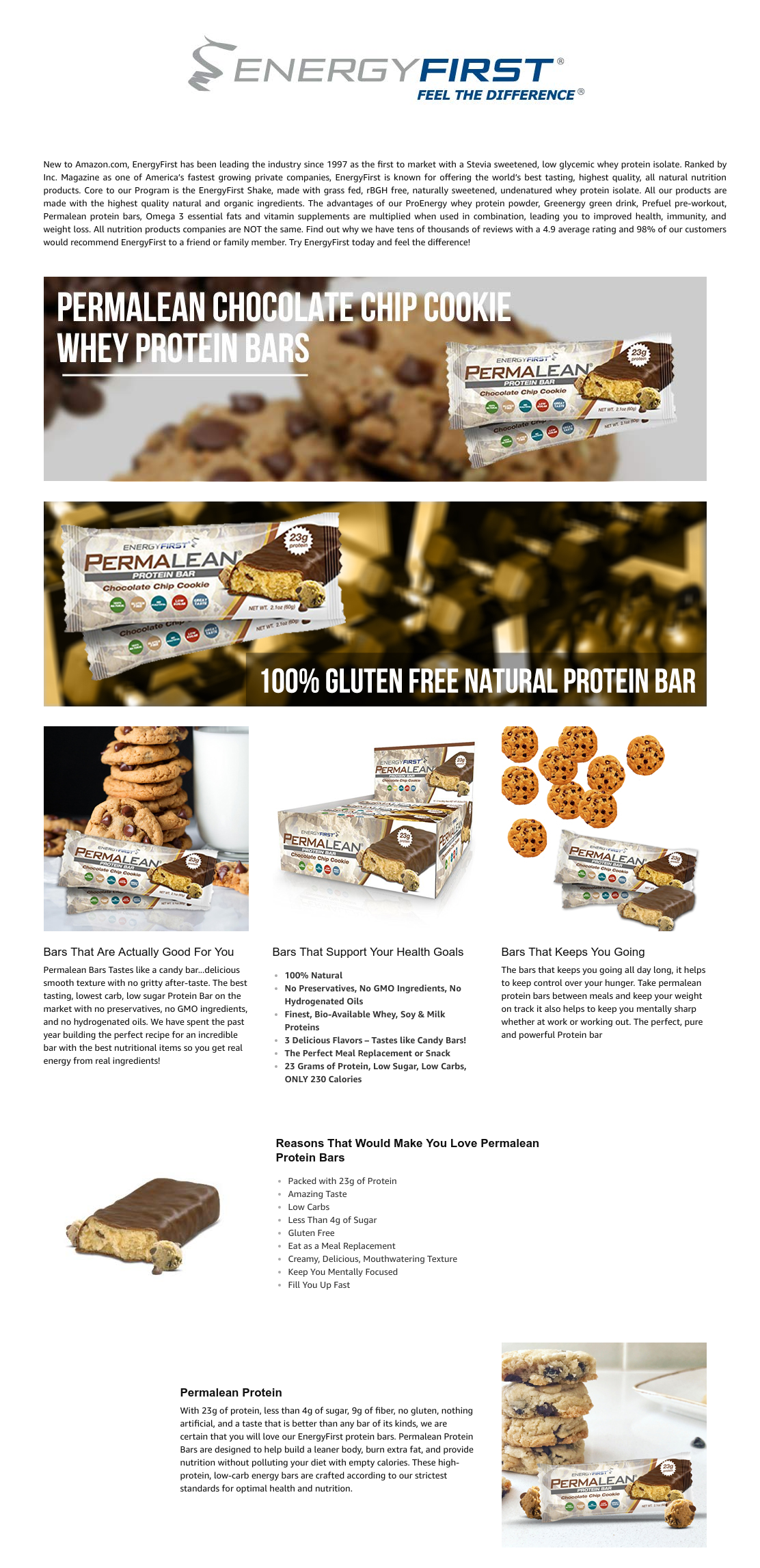 Although the bullet points and product description fields don't have a significant impact on search results, they do impact sales velocity. And conversions contribute to visibility in Amazon big time.
The bullet points should include key features that your customers are most looking for in a product. Make sure you add features here that didn't make it on to the product title.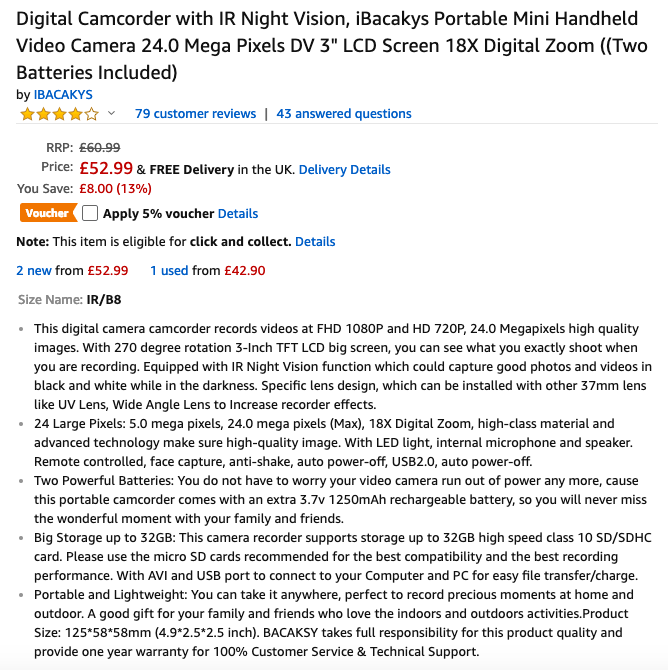 This is also an opportunity to mention compatible products.
As for the product description, take your time to craft unique content that is readable and natural sounding.
It's a good strategy to include keywords in the body of the description but the most important focus is to evoke confidence in the buyer. They want to know they are buying the product they are hoping for.
For inspiration, and professional guidance, check out these examples of e-commerce product descriptions.
Amazon Backend Keywords
As the name suggests, backend keywords are inserted into a field behind the scenes of your Amazon Seller Account.
These keywords are not displayed to customers on the shop front but are useful for Amazon's algorithm to match product pages with search terms.
The purpose of this field is to provide Amazon with a description of the product and identify the keywords you are specifically targeting. Keywords stuffing is a strategy that is permitted and does work!
Given you are given the opportunity to enter five additional fields with 50 characters, long-tail keywords carry the most weight. Long-tail keywords related to a specific feature or use of a product.
Be careful not to exceed the 50-character limit otherwise, your backend keywords will not be indexed.
Here are some tips:
Don't repeat words
Be specific about the product and the customer
Ignore commas and quotations – they eat up character space
Include spelling variation and synonyms
Conversions Are King
The cream of the Amazon crop are sellers that have smashed conversions and are attracting positive reviews.
In turn, positive reviews have an impact on your search ranking.
Amazon recognises customers rely on peer reviews to make an informed purchasing decision. Fake reviews are buffeted and Amazon threatens to sue brands that leave fake reviews.
The moral of this story is to use strategies that encourage customers to leave genuine and unbiased reviews.